Packhouse Solutions
Modern Farm Processor/Packhouse Manager provides flexible software for the modern fruit, vegetable and hop processing pack shed. Modern Farm Processor Packhouse Manager caters for the subtle differences between each packhouse and all varieties of produce. The Modern Farm Processor/Packhouse Manager is provided at an exceptionally competitive price, and includes your choice of support, on site or off site training, and on-going upgrades. Manage complex fruit processing such as mixing varieties and suppliers whilst maintaining traceability, automatically ripen fruit, control inventory from PC, PDA, smartphone, tablet or touch-screen, supports complex fruit grading and sorting. The solution integrates seamlessly with Modern Farm Suite Farm Management ERP solutions, with interfaces for all smartphones and tablets such as Android and Apple devices.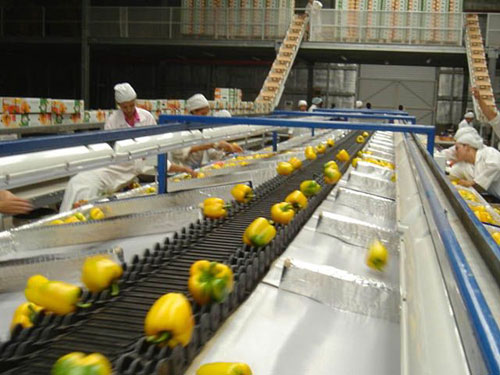 Packhouse Management Solutions: Modern Farm Processor Packhouse Manager software solution delivers extensive business management for the contemporary packhouse and fruit and vegetable pack shed. Todays modern packhouse is flooded with packing and food safety regulations from local regulations to export requirements; Modern Farm Processor Packhouse Manager helps make the regulatory headache go away, whilst assiting the packhouse to increase profitability. Packhouse management becomes more efficient and capturing traceability and management records requires no effort with Modern Farm Processor Packhouse Manager. . Remote access from smartphones keeps packhouse managers up to date with packhouse performance and allows mobile monitoring and packhouse control of the packhouse processes and tasks. Advanced features manage packhouse traceability, packhouse quality, and packhouse inventory and operations, including:
Packing operations
Packing management
Pack house inventory and pack shed inventory
Packhouse traceability
Packhouse standards and compliance support (BRC, HACCP, GlobalGAP, ISO)
Dispatch management and packhouse sales
Fruit and vegetable export management
Fruit sorting, fruit grading, fruit processing
Woks with any packhouse design
Produce traceability for PTI (Produce Traceability Initiative) and many other standards
Fruit tracking and advanced traceability systems
Packhouse support for mobile devices
Other packhouse solutions have trouble managing these processes that you can easily using Modern Farm Processor Packhouse Manager:
Sorting and grading, including waste measurement, management, and complex assignment of produce properties (up to seven different categories of fully configurable produce status descriptors)
Ripening management, including alerts
Sorting & grading goods in batches with multiple suppliers produce
Packing of batches with multiple suppliers produce in the one batch, whilst maintaining traceability and report ability of the pack out
Automatic enforcement of cool chain requirements
Purchase of Modern Farm Processor/Packhouse Manager requires an annual maintenance fee payable on the anniversary of purchase to continue using the software. Your Modern Farm Processor Partner or Consultant will provide full details of this cost prior to your purchase.