Modern Farm Suite Farm Management ERP
Precision farm management for fruit, vegetable, flower, and hop industries. Modern Farm Suite improves farm profits, traceability and best practice enforcement. Modern Farm Suite concentrates on traceability, cost monitoring & control, budgeting, reporting and KPL analysis, and resource and employee accountability. Modern Farm Suite delivers a rapidly deployable and easily configured farm management system at a competitive price; with solid support & training partners in dozens of countries. Modern Farm Suite is considered among the best farm software solutions in agriculture for farm control, ERP Agriculture solutions, and farm record keeping. Farm traceability is enforced by Modern Farm Suite including both pre-harvest traceability and post-harvest traceability. Comprehensive features from task management, equipment management, through to soil analysis (for all soil types) and advanced observations record keeping make Modern Farm Suite the best choice for farm management software.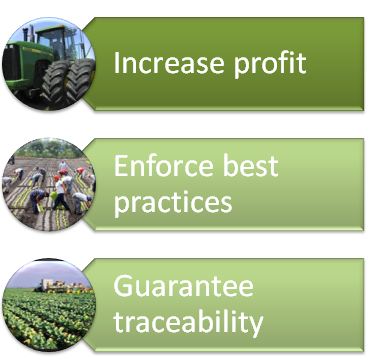 Benefits awaiting your farm...
Best practices increase productivity and can be enforced in all production processes, even over multiple farms using different standards producing different varieties of fruit and vegetables
Reduce farm wide risk by guaranteeing easy to record and highly accurate traceability systems
Rapid management response improves profit via on-screen and emailed alerts, improved reporting, mobile monitoring, and easy farm wide monitoring and observation systems
Improve cash flow management - information flows from the budget monitoring systems, allowing farm managers to easily assess farming progress analyzed by farm, produce, site, or farming area
Reduced material & labor costs are a direct result of accurate capture & monitoring of employee labor, and inventory management
Pass audits with ease by having farm wide traceability and operations information, at your fingertips in a useful format; at all times
Reduced compliance costs result from standards enforcing processes that form the core of Modern Farm Management ERP
Better support from agronomists by allowing remote monitoring of farming activities (you choose what information to share)
Minimize material waste and shrinkage via easy to use inventory management processes that incorporate traceability processes
Identify opportunities & eliminate problems through easy to understand comprehensive KPI reporting and monitoring
Improve communication between farming teams via accurate task management tools, alert systems, and printing tasks.
Reduced administration costs resulting from easy collection and reporting of costs and traceability information
Enhance cash flow and profit via easy to use, comprehensive planning of resources and farming activities
Stop employees from forgetting PHI & re-entry periods by automatic (configurable) alerts and critical stops in task management systems
Better planting decisions are achieved using the Best Practice Planting Estimate system based on projected yield, demand, and future orders
Create new opportunities & evolve your farms management style by using the "What if" analysis tools in the Estimates system to 'crystal ball' multiple demand, yield, and planting scenarios